---
It's All About Our Midshipmen
The mission of the club is to support families of Midshipmen at the United States Naval Academy; to learn about their lives as Midshipmen and their opportunities in the fleet; to meet and share information and advice; and to bring the Naval Academy experience home to Southern California by providing related programs and activities.
If you're not already a member – Join Today!
Membership Information:  Kathleen Ossenmacher:  apcscmembership@gmail.com
Follow the Annapolis Parents Club of Southern California  Facebook page for more information.
Follow the US Naval Academy Alumni Association on their Facebook page for more information.
For those of you wanting to serve on the board or looking for ways to contribute, please contact Joe Amaya.
E-Mail:  apcscp@gmail.com
. . .
Annual Chili Cook-Off and Navy Football – November 3rd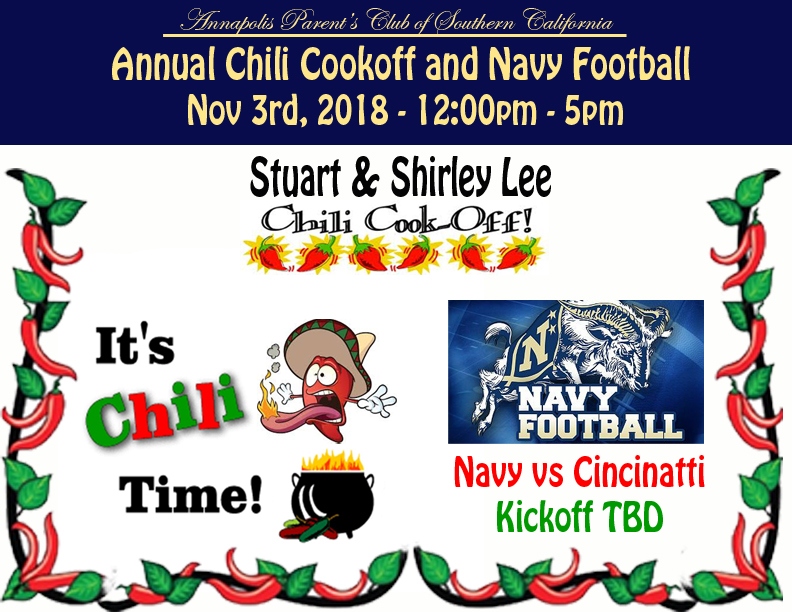 Are you ready for a throw down?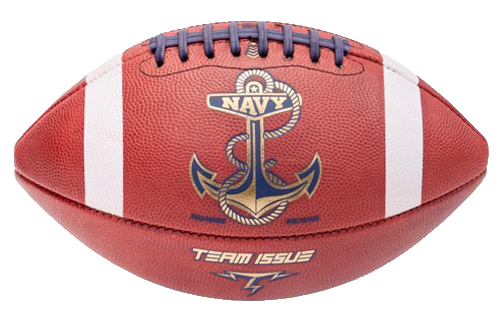 Come put your culinary skills to the test
while watching Navy football pummel
the Cincinatti Bearcats! 
Come armed with your best chili and spices and be ready for a fight and we'll see who comes out on top.
If you don't wish to bring chili there are other food items that are needed: cornbread/rolls, salads, desserts, and fruit plates. If you desire to drink alcohol please BYOB.
This is what we need people to bring:
10-12 Chili Contenders

4-6 Big Salads

2-3 Cornbread/Rolls

2-3 Desserts

2-3 Fruit Plates

Whether you bring chili or a side dish, we need plenty of people to help judge the chili so bring your appetite!
You do not want to miss this awesome opportunity to mingle with other APCSC members and catch up on the "goings-on" at the academy.
Where:  The Lee's Home, Santa Ana, CA
When:   November 3, 2018
Time:    Currently the Game Time is listed as TBD.  It will most likely be a noon time game (stay tuned for more info)

CLICK HERE to RSVP with what you will be bringing.
All Service Academies Military Ball – December 26th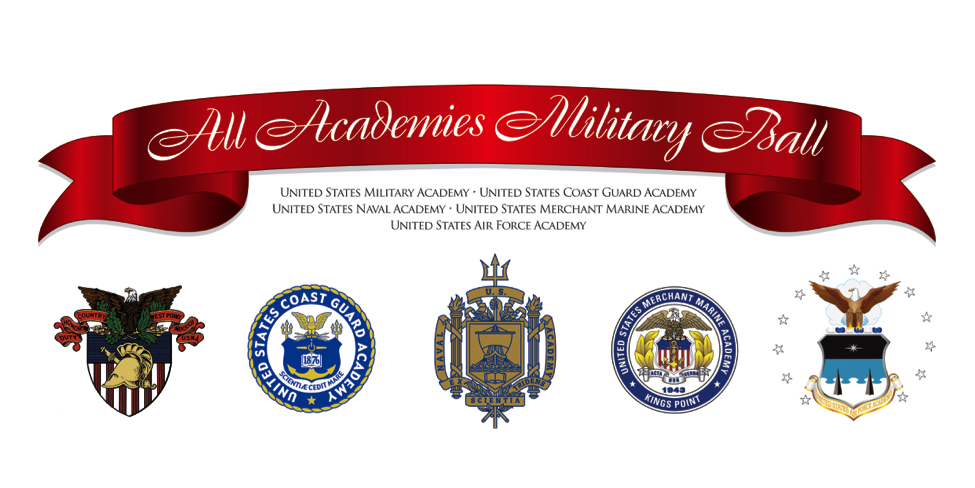 The United States Service Acacemy Support of Southern California is pleased to announce the 39th Annual All Academies Military Ball.  This black tie/formal event is one way we pay tribute to the Midshipmen and Cadets who have committed themselves to serve, protect, and defend our country.  These young men and women are not ordinary college students; they are enrolled in a rigorous four year college and military training program.  When they graduate, they will be commissioned as officers in our nation's armed forces.  Many will see immediate action around the globe.  Please join us in celebrating these brave young men and women who attend our five U.S. Service Academies and honoring their dedication to serve our country.
Date:  December 26th, 2018
Location:  
DoubleTree by Hilton Hotel Anaheim  
100 The City Drive South  
Orange, CA.  92868
The event will begin with a cocktail party at 6:00 PM. The cadets and midshipmen will be presented during a Grand March On at 6:30 PM. Following an address by our guest speaker will be a formal dinner, gift raffle, and cake cutting ceremony. The evening concludes with dancing until 11:00 PM.
CLICK HERE to get more information and order your tickets.