---
It's All About Our Midshipmen
The mission of the club is to support families of Midshipmen at the United States Naval Academy; to learn about their lives as Midshipmen and their opportunities in the fleet; to meet and share information and advice; and to bring the Naval Academy experience home to Southern California by providing related programs and activities.
If you're not already a member – Join Today!
Membership Information:  Ann & Mike Shires:  apcscmembership@gmail.com
Follow the Annapolis Parents Club of Southern California  Facebook page for more information.
Follow the US Naval Academy Alumni Association on their Facebook page for more information.
For those of you wanting to serve on the board or looking for ways to contribute,
please contact Toby & Julie Nassif at E-Mail:  apcscp@gmail.com
. . .
Annual Chili Cookoff – October 26th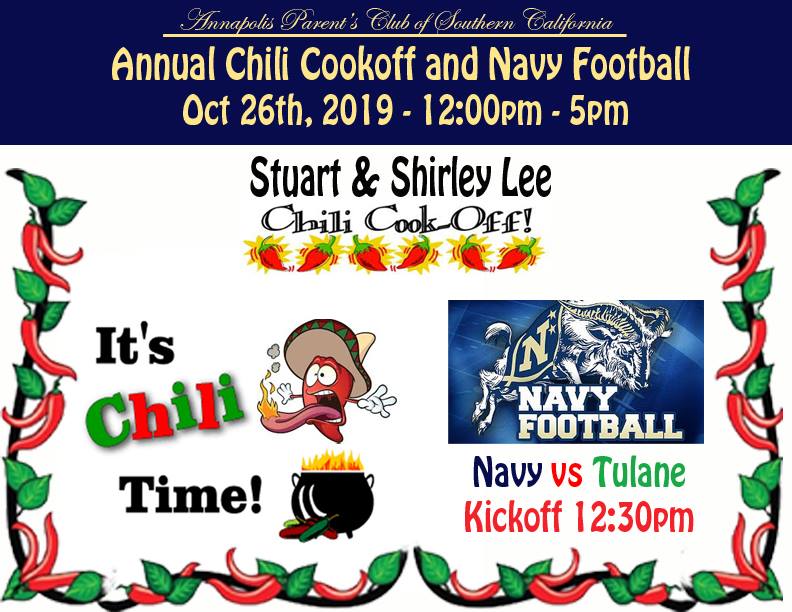 Are you ready for a throw down?  Come put your culinary skills to the test while watching Navy football pummel
the Tulane Green Wave!  Come armed with your best chili and spices and be ready for a fight and we'll see who comes out on top.
If you don't wish to bring chili there are other food items that are needed: cornbread/rolls, salads, and desserts. If you desire to drink alcohol please BYOB.
Whether you bring chili or a side dish, we need plenty of people to help judge the chili so bring your appetite!
You do not want to miss this awesome opportunity to mingle with other APCSC members and catch up on the "goings-on" at the academy.
Where:
The Lee's Home
18452 Gramercy Street
Santa Ana, CA 92705

When:
Saturday, October 26th, 2019, 12:00 pm