---
It's All About Our Midshipmen
The mission of the club is to support families of Midshipmen at the United States Naval Academy; to learn about their lives as Midshipmen and their opportunities in the fleet; to meet and share information and advice; and to bring the Naval Academy experience home to Southern California by providing related programs and activities.
If you're not already a member – Join Today!
Membership Information:  Russell and Barbara Bell:  apcscmembership@gmail.com
Follow the Annapolis Parents Club of Southern California  Facebook page for more information.
Follow the US Naval Academy Alumni Association on their Facebook page for more information.
For those of you wanting to serve on the board or looking for ways to contribute, please contact Chuck and Hannah Lee
E-Mail:  apcscp@gmail.com
. .
Mid's Yard Card.
The Yard Card is a fund-able debit card accepted at various locations around the US Naval Academy. 100% of all proceeds benefit the Brigade of Midshipmen.
Parents: click on the following link to add funds to your Midshipman's Yard Card Account. All you need is his/her Alpha Code. http://www.usnabsd.com/yard-card-account/
.
The Dark Ages – Packing Parties – February
.
It was a cold and bleak and dreary winter day (Dark Ages)
.
DARK AGES PACKAGE
Traditionally the Parents Club has sent a Dark Ages Package to our Midshipmen to get them through the long, cold and depressing months before spring break.  The months leading up to March are traditionally known as the Dark Ages. This is a time of shortened daylight, and intense studies with few breaks. A care package is welcomed by Mid's during this period.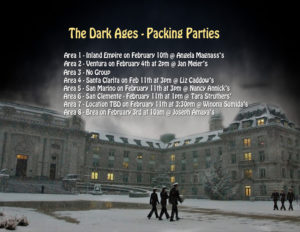 Area 1 – Inland Empire – Angela Magness – 17 Mids
Feb 10th – Time?
At home of Angie Magness.
Area 2 – Ventura – Jan Meier – 13 Mids
Feb 4th, 2 pm – Home of Meier's
Area 3 – No group
Area 4 – Santa Clarita, Liz Caddow – 8 Mids
Feb 11th, 3 pm, Home of Caddow's
Area 5 – 210 Corridor – 16 Mids
Sunday, February 11th, 3:00 – 5:00 p.m.
At the home of Nancy and Greg Annick
1440 Park Place
San Marino, CA  91108
Area 6 – South OC – Tony & Tara  Struthers – 18 Mids
Sunday February 11, 2018
1-3 pm
Tony and Tara Struthers' Home
1625 Vista Luna
San Clemente
Gate Code key key 1010
949-542-3471
Area 7 Families (LA County) – David and Winona Sumida – 11 Mids
DATE: Sunday February 11, 2018
TIME: 3:30pm-4:30pm
PLACE: TBD (we are looking for someone to PLEASE host our Area group; we will provide light snacks/refreshments)
THEME: STAR WARS and/or VALENTINE's DAY
Area 8 – North OC – Joseph Amaya – 23 Mids
440 North Naranjal Drive
Brea, CA 92821
Feb 3, 10 am to 1 pm