---
It's All About Our Midshipmen
The mission of the club is to support families of Midshipmen at the United States Naval Academy; to learn about their lives as Midshipmen and their opportunities in the fleet; to meet and share information and advice; and to bring the Naval Academy experience home to Southern California by providing related programs and activities.
If you're not already a member – Join Today!
Membership Information:  Kathleen Ossenmacher:  apcscmembership@gmail.com
Follow the Annapolis Parents Club of Southern California  Facebook page for more information.
Follow the US Naval Academy Alumni Association on their Facebook page for more information.
For those of you wanting to serve on the board or looking for ways to contribute, please contact Joe Amaya.
E-Mail:  apcscp@gmail.com
. .
Mid's Yard Card.
The Yard Card is a fund-able debit card accepted at various locations around the US Naval Academy. 100% of all proceeds benefit the Brigade of Midshipmen.
Parents: click on the following link to add funds to your Midshipman's Yard Card Account. All you need is his/her Alpha Code. http://www.usnabsd.com/yard-card-account/
.
2/C Parents' Weekend: September 7-9

2020 2/C Parents' Weekend will occur 7-9 September, 2018.  It offers an exceptional opportunity for parents to visit with their midshipman in the historic surroundings of the Academy and the town of Annapolis and to expand their knowledge of the traditions, academic life and unique atmosphere of the Naval Academy.  The academic facilities of the Naval Academy will be on display throughout the weekend.  Visitors will be able to visit these state-of-the-art facilities and meet with the talented and dedicated men and women who make the Academy an unparalleled undergraduate institution.
Beat Air Force Football Viewing Party – October 6th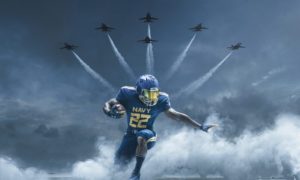 The USAFA Orange County & Los Angeles Parents Association and The Annapolis Parents Club of Southern California will be holding a joint viewing party at JT Schmid's Restaurant in Anaheim on October 6th.  Come cheer on our Midshipmen in a fun rivalry along with fellow service academy parents from USAFA.  This is a very fun event and a great opportunity to meet and share experiences with other local USNA/USAFA parents.
There is no charge for attendance.  Each family will only be responsible for any food and/or beverages they order at the restaurant.  The restaurant opens at noon, and the game starts at 12:30pm.
JT Schmid's
2610 E Katella Ave.
Anaheim, CA 92806