Brief Overview of Upcoming Events and USNA Anchor Dates 22/23
June 12 – Welcome Aboard Luncheon Class of 2026
June 30 – USNA Induction Day, the beginning of Plebe Summer
June 30 – USNA NAPC of Southern California Presidents at I-Day under the Big Tent
July 2,  9, 16, 23, 30 – 9:00 AM Stay Anchored – Plebe Parent Support Zoom Rooms
July 23 – Summer Picnic
July 29 – Navy Water Polo Golf Tournament Sea & Air Golf Course Coronado, CA 
August 1 – Lunch with the U.S. Naval Academy Men's Water Polo Team at San Juan Hills High School Pool (29211 Stallion Ridge, San Juan Capistrano, CA 92675) from 11:30 AM to 1:30 PM
August 6 – 9:00 AM Stay Anchored – Know Before You Go Plebe Parent Weekend – Plebe Parent Support Zoom Room
August 11 -14 USNA Plebe Parent Weekend
August 18 USNA Brigade Reforms
August 22 – USNA Fall semester classes begin
August 26 – HELLo Get Happy Brigade of Midshipmen Parent Club Zoom Event
September 5 –  USNA Labor Day No Classes
September 9 to 11 – 2/C Parents Weekend
September 10 – 2/C Naval Academy Parents of Southern California Group Photo (after formal parade)
September 25 – Area Five Fall Harvest
September 26-30 – USNA Six-Week Exams
October 1 – Navy versus Air Force Watch Party with Air Force Academy Parents and Alumni at The Brews Hall
October 9 – Area Seven Fall Harvest @ Point Ferman Park and Lighthouse
October 10 – Founders Day (USNA founded in 1845) USNA No Classes
October 13 – U.S. Navy Birthday
October 15 – Area One Fall Harvest @ Willowbrook Apple Farm
October 22 – Area Eight Fall Harvest
October 23 – Area Six Fall Harvest
October 23 – Area Three Fall Harvest
October 29 – Fall Meeting Chili Cookoff
October 31-November 4 USNA Twelve Week Exams
November 10 – U.S. Marine Corps Birthday
November 12 – Navy versus Notre Dame Watch Party
November 21 – OPINFO Learn about Naval Academy Life and Admissions from SoCal Midshipmen Richard Nixon Library Yorba Linda, CA 6 PM – 9 PM
November 21 – OPINFO Learn about Naval Academy Life and Admissions from SoCal Midshipmen Ronald H Roberts Public Library Temecula, CA 11 AM – 12:30 PM
November 22 – OPINFO Learn about Naval Academy Life and Admissions from SoCal Midshipmen USS Battleship Iowa San Pedro, CA 5 PM – 8 PM
November 23 – USNA Thanksgiving leave starts after the last class/last military obligation
November 24 – 27 USNA Thanksgiving Break
December 2 – NAPCSC Leadership Board Meeting 7:00 PM
December 9 – USNA Fall Term Ends
December 10 Army-Navy Football Game at Lincoln Financial Field
December 10 – Go Navy Beat Army Watch Party with USMA Parents at Battleship Iowa
December 12 USNA leave begins after last obligations (varies per Midshipmen)
December 12-20 USNA Fall Term Exams (end-of-semester leave starts after last exam/last military obligation)
December 26 – All Academies Military Ball @ Nixon Library
January 6 – USNA End-of-semester leave ends
January 10 – USNA Spring Term Begins
January 16 – USNA Martin Luther King Junior Day USNA No Classes
January 21 – Rescheduled due to venue rainstorm damage – Winter Meeting Alumni Salute – Board Nomination Committee is Formed
February 4 – Dark Ages Packing Parties Areas One, Seven, and Eight (NAPCSC Will pay USPS Shipping for one care package of Members who Attend on 2/4 or 2/25)
February 13-17 USNA Six-Week Exams
February 18 – USNA Commissioning 101
February 25 – Winter Meeting Alumni Salute and All Areas Dark Ages Packing Party (NAPCSC Will pay USPS Shipping for one care package of Members who Attend on 2/4 or 2/25)
March 6 – 9 USNA Plebes 4/C Declare Majors
March 10 – USNA Spring Break leave starts after the last class/last military obligation
March 11 – NAPCSC Firstie Luncheon Commissioning 101
March 12 – USNA Glee Concert in La Jolla, CA, 7:00 PM at La Jolla Presbyterian Church 7715 Draper Avenue La Jolla, CA 92037
March 13 -17 USNA Spring Break
March 14 – USNA Glee Concert in Newport Beach, CA, 7:00 PM at Our Lady Queen of Angels Church, 2046 Mar Vista Drive Newport Beach, CA 92660
March 17 – USNA Glee Concert in Long Beach, CA, 7:00 PM at Covenant Presbyterian Church 607 E. 3rd Street Long Beach, CA 90802
March 18 – USNA Glee Concert in Los Angeles, CA, 7:00 PM at Saint Paul the Apostle Church, 10750 Ohio Avenue, Los Angeles, CA 90024 – NAPCSC Hosts Glee Club Dinner @ 5:00 PM
March 19 – USNA Spring Break leave ends
April 3-7 – USNA Twelve-Week Exams
April 9 – Tentative Spring Meeting Firstie Parent Salute – Board Election
April 16 – Gather in the Park – Annapolis Cup 2023
May 3 – USNA Spring Term Ends
May 5-12 USNA Spring Term Exams
May 16 – USNA Sea Trials, Class of 2026 (closed to the public)
May 22-26 USNA Commissioning Week
May 22 – USNA Herndon Climb, Class of 2026 – Plebes No More!
May 26 USNA Class of 2023 Commissioning / Graduation
May 26 – LA Fleet Week 2023 on the Los Angeles Waterfront at the Port of Los Angeles
June 11 – Welcome Aboard Luncheon Class of 2027
June 29 – USNA Induction Day, the beginning of Plebe Summer
July 1,  8, 15, 22, 29 – 9:00 AM Stay Anchored – Plebe Parent Support Zoom Rooms
July 22 – Summer Picnic
USNA and Other Events of Interest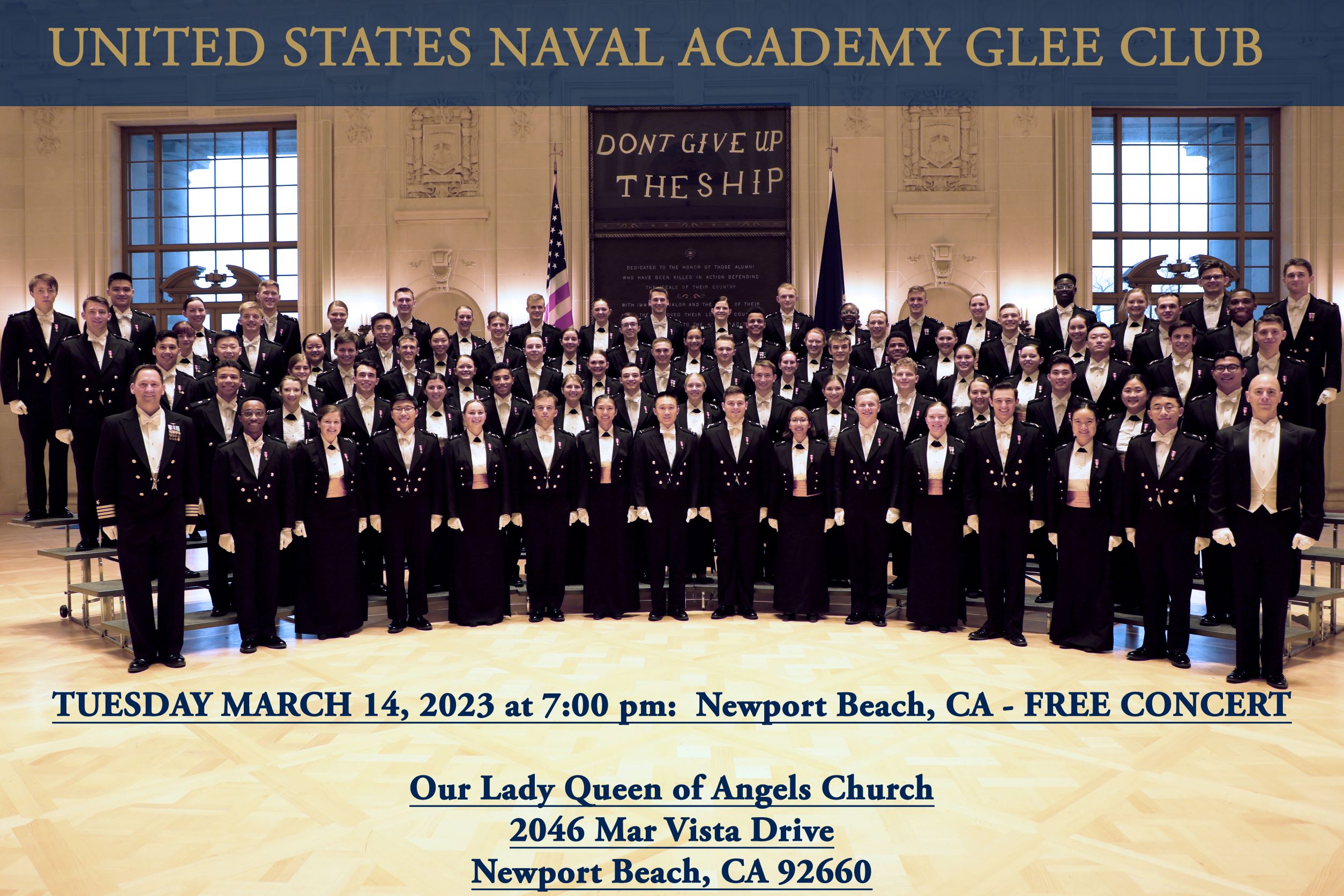 The USNA Glee Club kicks off its Southern California tour with free concerts in the following locations:
Be sure to attend the concerts and tell everyone to come out and support the USNA Glee Club in Southern California!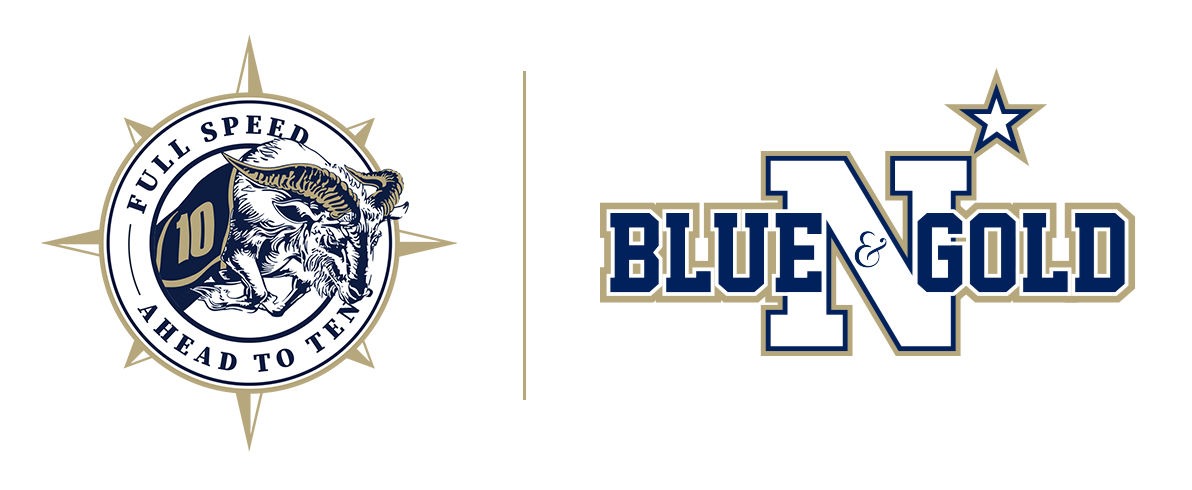 Do you need help navigating the purchase of Football tickets? Here's help. Terence McGowan is our Naval Academy Parents Club of Southern California contact to purchase tickets. Terence is also the Associate Director Blue-N*-Gold Annual Giving at the Naval Academy Athletic Association. He can be reached at 410-293-8708 or by email at mcgowan@usna.edu.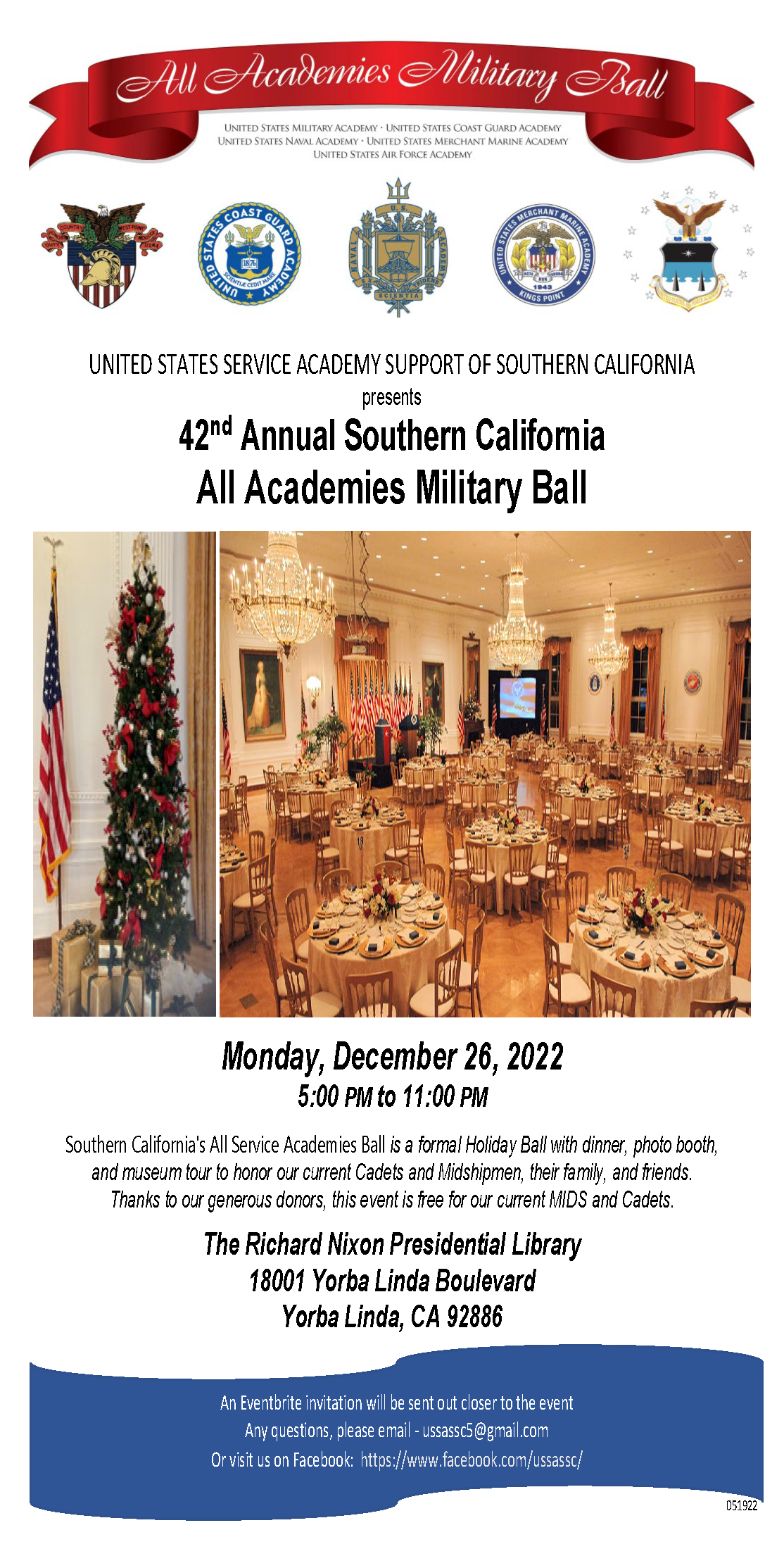 Save the Date, Monday, December 26, 2022, for the All Academies Ball, and have your Mid bring home their Mess Dress to attend. Visit eventbrite to purchase your reservations.
Herndon – Plebes No More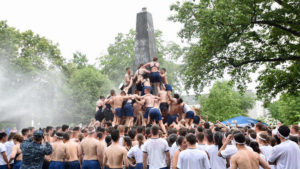 Graduation / Commissioning